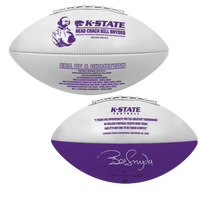 Era of a Champion Football
To order the Bill Snyder Era of a Champion Football, please click-on Catalog at the top of the page. See special offer below.
Autographed Legend Poster - 18"x24"
Bill Snyder LEGEND Poster
18"x24" Autographed Bill Snyder LEGEND poster includes Coach Snyder's prophetic quote from his first press conference on November 30, 1988.
"I think the opportunity for the greatest turnaround in college football history exists here today and it's not one to be taken lightly."